OASIS Information Day at Queens Park
On October 20, 2015, OASIS held an information day at Queens Park that included a number of meetings throughout the day with Members of Provincial Parliament and concluded with an evening reception. OASIS would like to thank everyone who attended and we look forward to working together to support Ontario's most vulnerable citizens.
Upcoming Webinar
Abilities Connect Fund Grant Program
Reminder: You can join us on October 26th from 1:30pm – 2:30pm EST for an interactive webinar hosted by the Ontario Chamber of Commerce to learn more about how The Abilities Connect Fund can benefit your organization.
The Abilities Connect Fund is an Accessibility Works pilot program, supported by the Government of Ontario that aims to create a more integrated Ontario labour market and improve the career trajectory of persons with a disability. There are two funding streams available; for more information, please RSVP to our webinar or visit http://www.occ.ca/programs/accessibility-works/abilities-connect/
To RSVP, email Matthew Beck at Matthew.Beck@edelman.com
Ontario Community Hubs Action Plan
The mandate of Premier Wynne's Special Advisory Group on Community Hubs was to review provincial policies, research best practices and develop a framework for adapting existing public properties to become community hubs.  The Special Advisor presented the group's findings and recommendations earlier this month in a report to the government, titled: Community Hubs in Ontario: A Strategic Framework and Action Plan.  The report is now available online: https://www.ontario.ca/page/community-hubs
In response to the report, OASIS issued a media release congratulating the government on taking this important first step. The release can be found here
Agency spotlight
Participation House London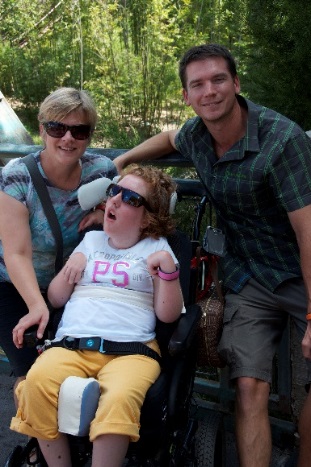 When Madison was turning 18, the nightmare world that I had heard about was fast approaching. I had heard that when your special needs child becomes an adult their funding gets cut, their pediatric doctors let you go, and all of the support that you once had is now gone.
The biggest anxiety for me was that Madison was soon going to be too old to attend the respite home that she was in. She had been going there for the last 16 or 17 years. They knew her and loved her, and she loved them! When she went there it was like a holiday for her and for me. As much as I love my daughter, I longed for the days that she would be in respite, and now that was going to be gone. Just thinking about it made my heart race and put me into a panic.
I had heard of Participation House Support Services (PHSS) before, but I thought they just had day programs available and Madison wouldn't need day programs for another 2-3 years. I didn't know that they also provided residential housing, and respite.
I was extremely excited to find out that Madison would be able to attend respite immediately upon celebrating her 18th birthday. I was shocked but happy to hear that I was lucky enough to not have to be on a waiting list for it. She fit their criteria.
My experience with Participation House has been exceptional. They made sure that on Madison's first day of respite the entire staff showed up and listened while I gave instruction on how best to take care of Madison.
Madison comes home from her respite days looking rested and happy. It is a relief to be able to drop off your child and know that they are going to be well taken care of.
It is difficult to describe how relieved I am to be involved with Participation House. I know that they value my daughter and want to give her the best care possible. They also seem to want to improve their service and are thinking of other ways that they can help their families.
I feel very grateful and appreciative to be involved with this organization.
Family Spotlight
Engaging in Peer Support
Meet Darren and Tyler
Tyler is an amazing little boy who is medically complex. He will never talk, walk or eat by mouth, but he has changed the lives of his parents and siblings, Alicia and Bobby, to their very core.
Darren and his family have accessed peer support in many different ways.  When Tyler was young, Darren and his wife Helen helped start a parent support group at their local children's treatment centre. The group started with a core group of families that went on to provide peer support for hundreds of families.  He has also accessed peer support online through Facebook and groups such as Parent Advocacy Link.  From Darren's experience, online groups like Facebook provide an opportunity for members to become friends who might go out for activities with their kids or grab a coffee.
Linking people who share similar experiences is an element of peer support that has played an important role for Darren and his family.  Darren provided these words about the value of peer support:
"Sometimes we just need to know that we are not alone and that there are others out there living the same experience. You can find people that are very much like you who 'GET IT'.  I think that many of our closest friends are families with children who have disabilities. It really is a cultural thing. Most don't understand what it is like unless they live it. It does not mean that you don't keep your old friends, but you are certainly not going to discuss the same things with the same level of understanding."
Engaging in peer support also allows for sharing of new ideas and concepts, and this has been beneficial for Tyler and his family.  Darren shared this experience:
"Our son, years ago was due for a surgery to have a fundo. Another parent suggested a different formula. The formula change not only stopped all issues that Tyler was having where he was throwing up continuously, but he also no longer required surgery. That is just one small instance out of hundreds."
DSO update
The DSO Provincial Network consists of representatives from all nine Developmental Services Ontario organizations. The Network meets monthly to discuss issues of common interest and strategic importance that will positively impact the lives of people with developmental disabilities and their families. In doing this, we identify potential problems and issues and share best practices to better serve Ontarians and the agencies that support them.
We are currently working on several key priorities, including:
Helping the Ministry identify the changes that will be needed for the province's Developmental Services Consolidated Information System (DSCIS) in the future – especially in regard to helping people connect with services and supports;
Reviewing our current eligibility confirmation and application practices so that people receive the same messaging and support throughout;
Developing better tools for communication with individuals, families, and with service providers.
Learn more at dsontario.ca
My Direct Plan
My Direct Plan (MDP) supports the ongoing transformation of the developmental services system into one that promotes greater independence for individuals and delivers person-centered supports through a collaborative and efficiency service delivery system.
Web Based Technology Enhances Passport Funding Experience
Since its inception in 2005/06 the Passport program has seen significant Investment to assist more people and their families with activities of daily living and respite.
Families have been submitting paper claims for reimbursement to their local Passport agency in person, by mail or by fax. Some families have elected to use Broker agencies or Support agencies where the appropriate supports would be provided and the paperwork completed on their behalf.
MyDirectPlan is an easy to use cloud based application that can be accessed from any computer, tablet or smartphone.  MyDirectPlan has the ability to track monthly expenditures, the ability to view balances available online and generate and send invoices directly to Passport Agencies.
A number of agencies across Ontario partnered with MyDirectPlan in the "Supporting and Improving Passport Recipient Supports in Ontario" initiative of the Ministry of Community and Social Services.  As a result, there is no cost to use the application, which is compliant with the latest Passport Guidelines.
The development of MyDirectPlan has already involved significant input from families in order for it to not only meet the Passport guidelines with respect to expenditure reporting but also to be user friendly.
There are a number of benefits of using MyDirectPlan, including but not limited to:
For Families:
the ability to view funds used and balance available in real time
generate and send invoices and receipts to their Passport agency
reducing arithmetic errors because the application does the calculations
secure storage of all expense records
availability of telephone/email support from Darts Solutions Inc.
For Passport agencies:
tracking of monthly expenditures
receive invoices and receipts electronically
monitoring/reconciling expenditures efficiently
streamlining and standardizing reporting and accountability
data analysis at source
For Support agencies:
efficiently input and track expenditures by individual
the ability to submit one invoice for all recipients of Passport Funding
generate detailed reports
reduction of paper documentation
For the Ministry:
the availability of consistent aggregate data
the ability to use this data in making a business case for additional Passport funding allocations
Currently there are two major development aspects of the project under way:
Consulting with Passport agencies to ensure that the data collected through MyDirectPlan meets each agency's invoice requirements.
Developing a Broker account so that agencies providing Broker services for recipients and their families can enjoy the benefits of MyDirectPlan.
We have had the pleasure of presenting MDP to a number of family groups and agencies but we would like to do more. If you are interested in finding out more about the application, please go to www.mydirectplan.com .
If your agency or your family group would be interested in receiving a presentation, please contact:
Hassnane Sajan at hsajan@dartssolutions.com or 289-234-3278
My Direct Plan in Action
Durham Association for Family Respite Services (DAFRS) became involved in the launch of My Direct Plan in Durham Region because of the strong opportunities we believe it offers to families who use Passport Funds for the day to day provision for people to live a good life as integral members of their community.
As a Family Support organization used to working in many individualized situations, we were keen to get on board early in order to have input into the shape and content. Already some of suggestions have been adapted.
MDP has the ability to put the family, the Passport recipient, or a designate, in the driver's seat with full control of your financial information in the hands of the user. What you want, when you want it, in the comfort of your home.
We are pleased to announce that October 1st we launched direct invoicing process to our local Passport Agency. We look forward to continuing to hear from families, getting their input and feedback on this potentially valuable tool. 
Teresa Dale, Manager of Family Supports,
Durham Association for Family Respite Services.
"With MyDirectPlan I would be able to keep track of my daughters funding, send invoices (without having to find and pay for a fax or mail a letter) and have the ability to track expenses by funding type (which would be really helpful)"
Kelly K (a mother)
OASIS Sensory Partners
The OASIS board supports the belief that all individuals who are Deaf and Deafblind, regardless of additional disabilities, have the right to understand and to be understood and to reach their full potential. This occurs when people around them use the language and communication approach determined by individuals who are Deaf and Deafblind themselves.
Although the group of agencies that make up the OASIS Sensory Partners (OSP) are few in number, they have been working diligently to make the needs of the individuals that they support.
In May of 2013, the OSP presented a formal paper to the Directors of all nine DSOs for an application process which compliments the current application system.
Some of the issues related to the Application Process for Developmental Services that the OSP have highlighted include:
quality supports to adults who are Deaf or Deafblind or who have other sensory related issues through the planning and delivery of support services is a priority;
adults who are Deaf, or Deafblind or other sensory related issues will have personal choice in the planning and delivery of their services;
all adults who are Deaf or Deafblind will be treated equally; and have access to services that meet their unique communication, environmental, cultural, and mobility needs regardless of where they live in the Province.
For further information please click here
Need Health and Safety Support?
Every staff member, family member and client play an important role in preventing injuries and illnesses in our residential support agencies.
We've partnered with Public Services Health & Safety Association to better support you in increasing awareness and understanding your rights, roles and responsibilities when it comes to occupational health and safety.
Health & Safety Resource Webpage Now Live
We are pleased to announce that the online Health & Safety Resources Webpage is now live! This new section of our website contains a variety of free health and safety resources, including fact sheets, checklists, web tutorials and posters, all tailored specifically to the unique occupational hazards faced by our member organizations.
We invite you to check it out here
New OASIS Members
Two new OASIS members were approved at the Executive Committee meeting: Quinte Vocational Support Services in Belleville and Community Living Tillsonburg in Tillsonburg.  This brings the total membership to over 185
Housing Task Force
The first group of projects has been selected by the Developmental Services Housing Task Force to help expand the range of housing options and choices for adults with developmental disabilities in Ontario.  A second call for proposals will coming out later this year.  A list of approved projects can be found here.