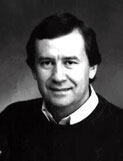 Gordon Anton began his career in the field of developmental services with E3 Community Services, in 1988. He brought with him a wealth of experience as a senior level administrator from right across Canada.
Gordon's strong leadership has been the basis of continuous, positive growth and development, for E3 in particular, and for the Developmental Service sector in general.
Gordon wrote a discussion paper, with the support of the Collingwood Board of Directors, called Federation in Conflict in 1994 that put into words many of the frustrations felt in the developmental service sector. The paper highlighted many of the common needs of agencies across Ontario. This paper became affectionately known as the Collingwood Paper. It was instrumental in spearheading the formation of OASIS. Gordon's efforts during the initial developmental stages of OASIS are reflected in the strong and successful organization that it is today. Gordon led OASIS into the high tech world when we headed off to Ottawa to plan for the new organization. Gordon was responsible for developing a communications strategy for OASIS including the first newsletter, website and various OASIS mail lists. All of these communications avenues are critical to the communications strength of OASIS today. Effective communications with its members is one of the core values of OASIS!
Gordon and his Board and staff set the standard and format for our Annual Conferences by hosting the first one in Collingwood. Gordon is strong and focused in his beliefs and is dedicated to the mission and success of OASIS. He is also a passionate and active advocate for the rights of individuals supported, their families and staff.
There is not anyone more deserving of recognition for his efforts on behalf of OASIS and the Developmental Services Field in general than Gordon Anton.